Dissatisfaction Top Reason CMOs Move On
It's well known that CMOs have the shortest lifespan in the c-suite, but what isn't clear is why. Does the CMO lose interest and move on? Does the CEO become dissatisfied and give him or her the boot?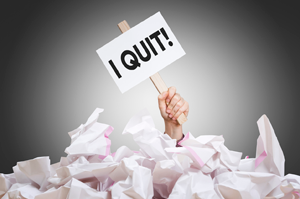 The average CMO lifespan at 100 of the top U.S. ad spenders slipped to 3.7 years in 2018 from 3.8 in 2017, compared to CEOs average 7.4 years, and CFOs nearly 5.3 years, according to executive search firm Spencer Stuart.
To get a few answers to that gaping disparity, Engage Talent conducted research that may provide some clues.
Ten percent of CMOs are interested in changing jobs while 7 percent are extremely interested.
More than other key C-suite leaders, CMOs appear to be open to changing jobs, Forbes reported.
• CMOs are more dissatisfied than other C-Suite leaders.
"In my research and work with C-level marketers, I have found a number who are generally unhappy with their role," Kimberly A. Whitler, a Forbes senior contributor wrote. "In some cases, the CEO doesn't respect marketing, making it difficult for the CMO to lead an agenda. In other cases, the firm norms are to marginalize marketing."
• CMOs prefer change more than other C-Suite leaders.
"In discussions with CMOs regarding why turnover is higher among marketers than other functions, some mention that marketers are more comfortable with risk and seek change more often than other functions," she wrote.
---
Other articles you might enjoy:
---
Meanwhile, when a marketer departs, new research indicates that filling open positions might take longer than you think.
Eighty-three percent of marketing roles take more than five weeks to fill, according to the 2019 Marketing Talent Crunch Survey, conducted by Spear Marketing Group.
"If the reason that many CMOs leave is because of a need for change, companies can take steps to keep CMOs challenged and engaged, preventing needless turnover," Whitler added.