Brands on Fire: Mountain Dew Marketing VP Nicole Portwood on Dew's 'Culture of Doing'
Our monthly analysis of the world's top brands and the marketing moves that are setting them apart.
—
The start of the year is a time for resolutions and refocus for many brands. For Mountain Dew, it's time to get busy.
It's not even February yet and the PepsiCo-owned brand has launched the no-sugar Mountain Dew Zero Sugar, the first zero-sugar flavors of its Mountain Dew Amp Fuel energy drink, a Super Bowl commercial and announced the forthcoming availability of Mountain Dew beverages in Regal Cinemas this Spring. To use the words of "Zoolander's" evil fashion guru Mugatu, Dew is "so hot right now."
It's all part of a new "culture of doing" that touches everything the brand is developing. From product innovation to fan engagement to advancing new markets to tapping into cultural moments to embracing new advertising formats and activating live experiences, Mountain Dew is moving faster than ever before to stay relevant—and satisfy its thirsty fans.
Driving the brand's marketplace saturating strategy are a pair of guiding principles. First, its goal is to be a "first-mover." "The scale and scope of PepsiCo moving quickly on things is not a behavior that comes naturally to us," says Nicole Portwood, vp of marketing for Mountain Dew. "But as we look at our need to stay within the cultural conversation and connect with consumers across generational cohorts, it's important that we be able to respond to culture and react to opportunities quickly." And that has required some rethinking in terms of how the brand operates, how budgets are moved around, how it engages with agencies and how it briefs. "All of those things have really had to change," she says.
Here's an example: For "Game of Thrones" eighth and final season, Dew created not-for-sale, limited-edition cans that were completely white—without even a logo—when room temperature. But when chilled, the cans revealed Aria Stark's kill list. (For the unfamiliar, Aria's training as an assassin for the purpose of avenging her family requires relinquishing her identity and becoming "no one.") Mountain Dew called the product "A Can Has No Name," cheekily sacrificing branding for the sake of cultural relevance. Though not for sale, some of the cans were given to fans who tweeted about what they'd sacrifice #ForTheThrone and other cans were discovered through scavenger hunts guided by the brand's Twitter account (Motive, handled).
From start to finish, the process took about six weeks. "We moved quickly with supply chain, with our packaging partners, with content creation and social media, with our legal team, and got everyone behaving in a way that's more nimble than the organization is accustomed to," Portwood says. The most important part: being a part of the cultural conversation. "We recognized this as a real marketing moment, so we wanted to be sure we could take advantage of it. And that meant making the decision we were going to make only promotional cans and take advantage of this crossover moment for the fans."
Dew's second guiding principle is "fan-first" engagement. Tapping into the brand's loyal fanbase, known as Dew Nation, provides a treasure trove of feedback. The brand has created one-offs, like a custom wedding cake topper for a woman who claimed on social media that her fiancé was never photographed without holding a bottle of Mountain Dew. (You can guess what was in his hand atop the cake). And then there was the Mountain Dew Body Wash, which fans demanded after a photoshopped version showed up on Reddit.
"There's lots of listening, lots of learning from the people who love your brand, and lots of finding the right ways to reciprocate that love in a way that is on brand and honors the passion and the dollars that people are spending on your product out there in the market," Portwood says.
Product Innovation
Dew this year has been moving quickly to launch new products that respond to consumer trends. Mountain Dew Zero Sugar, available in stores January 13, was developed in response to requests from Dew's fans. It's also an answer to the wellness trend that has brands creating products for more health-conscious consumers. "It took us a long time to develop this formula. In order for us to make it as good as the original, maybe even better than the original, it took a lot of R&D rigor, a lot of tasting, a lot of testing," Portwood says.
The brand also introduced its first zero-sugar flavors of Mountain Dew Amp Fuel, watermelon and raspberry lemonade, to target the gaming demographic. Energy drinks are popular in the gaming community, but esports athletes are increasingly focused on proper training and dietary choices that lead to greater success within the sport. "What we heard from them was, we would love to have this in a zero variant, because health and wellness is something that's important to gamers just as it is to the general population," says Portwood. Dew is promoting the new product through a Super Bowl commercial that spoofs the film "The Shining," which it teased last week ahead of the big game.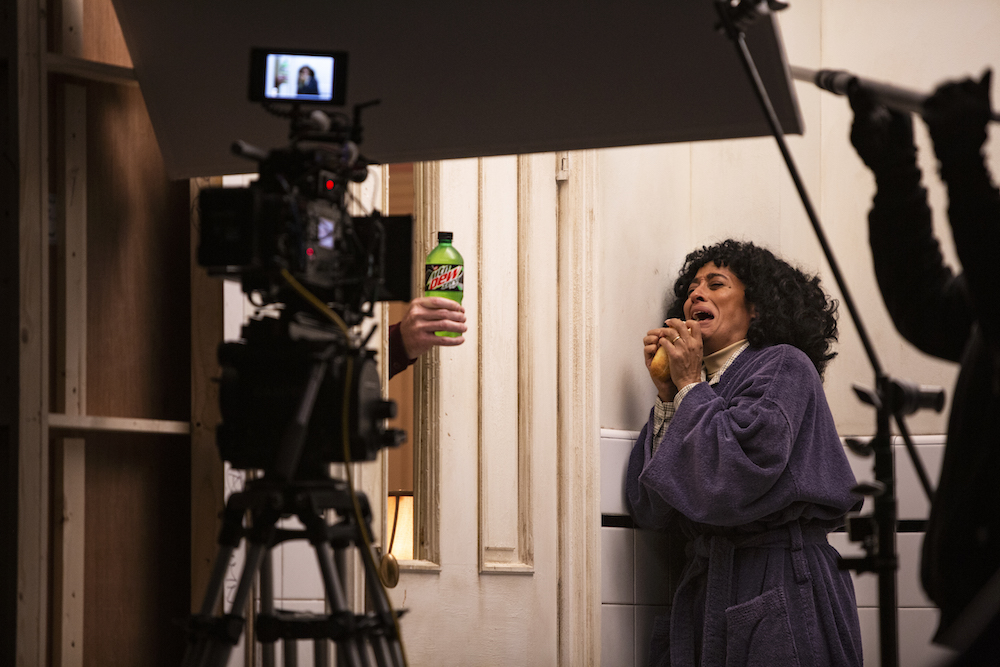 New Markets
Mountain Dew is known for its partnerships with action sports (Dew Tour) and the NBA (All-Star Weekend). But in the last couple of years it has gone all-in with the gaming demographic. The brand launched the Game Fuel Amp product in 2019 in partnership with two notable brands in the esports space, Call of Duty World League and OpTic Gaming. Right out of the gate, the can featured a "no-slip grip" to mirror the designs of gaming hardware and a resealable lid. And with the launch of Call of Duty: Modern Warfare last September, Dew created special COD-branded cans to celebrate the launch, let players unlock in-game rewards inside the game with the purchase of Game Fuel, Mountain Dew or Doritos products, and launched an esports exhibition event, the MTN DEW AMP GAME FUEL Celebrity PRO-AM.
In 2020, Dew is creating marketing activations in the space slightly differently. The brand will be announcing its partnerships for the year shortly, with retail and content creation at the forefront. "Last year when we launched the product we did a lot of the expected things. We had TV commercials and we did a lot of push video on digital," Portwood says.
This year this brand is shifting from big TV buys to marketing to gamers where they live: online. "There's a significantly increased investment with Twitch because of the platform's importance and capability for immediate DTC commerce through its partnership with Amazon," Portwood says. The brand will allocate about 40 percent of its marketing budget toward gamers, similar to last year. But the way it's spending money is shifting dramatically. "Last year, we spent a portion of that on a relatively large TV campaign. You subtract that out of the equation and your dollars will go a whole lot farther," she says.
Fan Engagement
Mountain Dew recently created a fan engagement team internally, which Portwood says is the only one of its kind within the PepsiCo structure. The sole purpose of the three-person operation embedded within the brand team is to listen and respond to fans. Actions range from simple, such as a response to a fan on social media, to more complex, like creating an actual product (read: the aforementioned cake topper) and sending limited-edition items to fans. In terms of tools, the trio uses good old-fashioned Internet trolling coupled with marketing technology. "There's been a philosophy shift within the organization, within our agency partners, within our division structure, to always have your antenna up for these opportunities," Portwood says.
Though the brand has always been listening to fans, the point with this new organization is to take action on what they hear. "In the past, we have seen these outpourings of fan love—people tattooing Baha Blast on their bodies and bathing in bathtubs full of Mountain Dew—but haven't really done anything about it… We want to, as it were, 'put our money where our mouth is' and be a brand that does things. And that includes responding and reciprocating with our fans."
Advertising Formats
One of the most buzzworthy topics at CES this year was digital advertising formats. For instance, subscription mobile content service Quibi made a splash with a presentation of its "Turnstyle feature" that allows consumers to toggle back and forth between landscape and portrait mode while viewing content—and advertisements. Mountain Dew is one of the brands signed on to advertise during Quibi's first year. "Quibi has hit upon changing consumer behaviors when consuming entertainment content. They're meeting that need with short-form content that has the same level of production value and episodic entertainment," Portwood says. Part of the draw is the service's mobility (naturally), its premium, diverse content selection and the interactive storytelling feature.
Live Experiences
From its Courtside Studios experience at NBA All-Star weekend to its extreme sports activations to its booth at streetwear convention ComplexCon, Mountain Dew shows up big with live experiences. Most recently at ComplexCon, the brand created a gamer's paradise celebrating the past, present and future of gaming and esports. Attendees made their way through a wall of retro arcade games, like Space Invaders and Pac-Man. Then, to enjoy gaming's present, eventgoers played Call of Duty: Modern Warfare tournaments and competed for a chance to play against Complex host DJ Akademiks. The future of gaming played out through immersive virtual reality treadmills, gaming vests and VR goggles that simulated explosions and doomsday scenarios (20FT BEAR, handled).
It's part of the brand's move toward promoting a "culture of doing," according to Portwood. "People want in-real-life experiences, they want to have in-real-life friendships and connection, not only with people but with brands as well. We would be remiss if we didn't listen to that consumer behavior and respond appropriately."
Indeed, expect to see more brand announcements in the coming months as Dew continues to "do" more in the marketplace, from retail partnerships to new ad formats to who-knows-what product Dew Nation decided to ideate on social. We'll be watching.