LG Mobile Tour Encourages Consumers to Minimize Their Fashion Footprints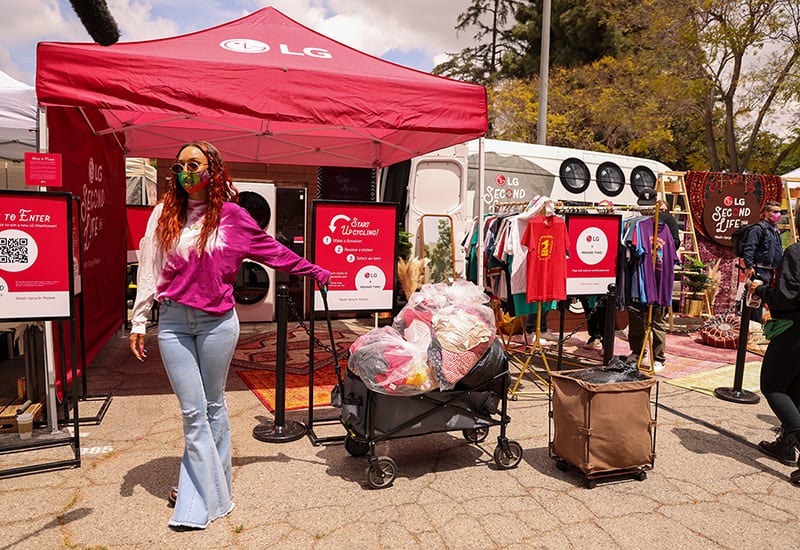 To help consumers reduce their fashion footprint, LG Electronics activated a seven-city mobile tour designed to encourage consumers to donate unwanted clothing as a way to limit textile waste while simultaneously highlighting the brand's laundry solutions. The marketing campaign incorporated fabric care education, donations, a clothing swap and upcycling into the experience, according to a case study in Event Marketer.
Dubbed the Second Life Tour, the program created a series of sites where consumers could donate their used clothing, experience a demo of LG's new artificial intelligence-powered WashTower units and participate in a clothing swap for rare vintage pieces from thrift store Round Two. At the tour's last stop in Los Angeles, the brand set up a wash center with LG washers, dryers and LG Styler steam closets to assist with cleaning, sanitizing and sorting clothing ahead of donating it to families.
The activation is part of a multi-year initiative to inspire consumers to be responsible through fabric care and upcycling. The latter was on display during the tour as well: LG partnered with designer Nicole McLaughlin, who turned any unusable items into a capsule collection to be released this fall—effectively giving the donations a "second life."
For more detail on the LG tour, read on in Event Marketer.