Q&A: PwC's Path to Digital Transformation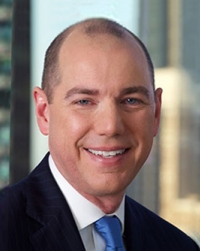 PricewaterhouseCoopers (PwC) is the second largest professional services firm in the world, one of the "Big Four" auditors along with Deloitte, EY and KPMG. Headquartered in London with offices around the globe, the company—with annual revenues of $41.3 billion—is constantly reevaluating its marketing strategy to target a diverse customer base.
Reggie Walker, chief commercial officer of PwC, recently chatted with Chief Marketer about the part digital transformation plays in addressing shifting customer needs, and the challenge of connecting with a global audience.
CHIEF MARKETER: What does digital transformation mean to PwC?
REGGIE WALKER: Everyone loves the term and it is grossly overused. I look at digital transformation as simply how are we utilizing technology to promote new ways of working, to fundamentally change what we do and open up new markets. It allows us to give our people new tools and work more effectively with our clients. It also provides us with the ability to run the organization in a scaled way, and break down barriers to get insights into how to move much faster into the marketplace.
CM: Who is the core audience you're trying to reach?
WALKER: It depends on the message.  If it is the audit business, that stakeholder group is a specific set of people—audit committees, regulators, boards, heads of finance and CEOs. If you're talking about the consulting business, the landscape gets bigger. And then there's society at large, because we are a big brand. And, we're also trying to reach a talent pipeline—we [employ] 240,000 people globally, so we're one of the largest on-campus recruiters in the world. We have very different audiences and we have to be targeted in how we reach them. We need to have clear messages in relation to our purpose and our values, and for the people we want to reach.
CM: Is it difficult reaching these folks?
WALKER: I look at it like we have 240,000 marketers in this company. We have 240,000 people on the ground with our target audience every day, touching our target base. They need to have the right conversation at the right time with our clients. There is nothing more critical than that. Digital is key for us. You'll see occasional ads in airports or sponsorships at golf tournaments, but if you look at buying decisions in our industry, no one buys based on that. They buy based on reputation, so we need to build credibility.
---
You May Also Enjoy:
---
CM: What are some of your pain points, when it comes to reinforcing that reputation?
WALKER: Fragmentation of the messaging we have in market and having one global message, when you consider we have our size and that we have offices around the world. The look and feel might be different [across different verticals], it might not be connected to a key theme. [In the past,] there wasn't a lot of control over the messaging, branding and the channels of communication.
CM: Is marketing attribution a challenge?
WALKER: I have a pretty specific mantra—if it can't be measured, I'm not doing it. I have to look our shareholders and partners in the eye and tell them if something is a good use of our money, so we need to figure out the return. You need to  start with that mindset, and really work towards measurement. Technology is making it easier. We know can track who is reading what and how much time they spent with it. We can get to attribution—it isn't perfect, but it is getting better.
CM: As we move closer to 2020, what's next for PwC?
WALKER: Looking ahead, we are focused on how we can better leverage technology and data to drive our decision making process within marketing. We are always evaluating how we can use the data at our fingertips to glean insights to make more informed, actionable decisions that will enhance the client experience.