Choosing the Right Agency to Tell Your Brand Story: 7 Questions to Ask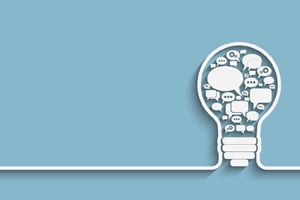 Cutting-edge innovation and sleek design mean nothing if you don't know how to position and sell your brand. So when it comes to differentiating your product from the competition, finding the right branding agency is crucial. Yet, just like distinguishing your brand in the marketplace, it can be difficult to tell one agency apart from another.
Wondering what makes a branding agency worth hiring? These seven simple questions to ask a prospective partner can help you pick the right agency to bring your brand to life.
1. What does branding mean to you?
A brand isn't a logo, and it isn't marketing materials. A brand is an idea in your head – it's whatever pops into peoples' minds when they see, hear or think of you. A good branding agency must make sure to help tell that story for each brand. They will build that story, and put the idea of the story into people's minds through marketing.
Bottom line: An agency that focuses mostly on logos/design may not be the best fit, or, worse—they may be a design house masquerading as a branding group. (Trust me, It happens a lot).
2. How do you help brands differentiate themselves from competitors?
It is important to figure out which product and service offerings set you apart from competitors, but those items shouldn't be your leading differentiators. It is more important to lead with emotions, e.g., what does this product difference mean to consumers? A good branding agency will ask: How do we capitalize on the consumer's connection to the product — not just features and functionality?
Bottom line: A good agency will immediately ask you about your differentiating promise of value and what makes it believable. They will help you identify it and leverage it to tell a story.
---
You May Also Enjoy:
---
3. What kind of ROI can I expect?
This depends on your goals. The important thing is to set those goals (either on your own or by working with a branding agency) and to make sure you have measurements in place to see how you are progressing and achieving them. Equally important is being able to measure the pace at which you are achieving so you can adjust and change your strategy accordingly.
Bottom line: Everyone will promise you metrics, but best agencies know how to a/b test creative and adjust to maximize the ROI on your investment. They know they won't bat 1000 every time
4. Are you an inbound only marketing company, or do you also incorporate branding strategy?
A lot of agencies like to tout themselves as inbound, but that's only one part of the total strategy. If they're solely focused on inbound marketing, that's great, but then you will need to find another company who can handle all other aspects of marketing. Make sure you know what each agency's strengths are. Most importantly, make sure they understand your brand as it is today, and all the aspects of branding you need to build a solid foundation for your brand.
Bottom line: Know what you are looking for in an agency and make sure they are strategic—whether they execute all these programs or not.
5. Is your agency a good fit for our company?
In the end we are selling people, not manufacturing a product. There is going to be a lot of collaboration between the agency's people and your people, so if you don't get a good feel for the people at the agency, you're not going to have a good experience. No agency is going to share their finite strategy with you, but you should be able to get a feel for how they think and operate on a high level. 
Bottom line: Don't get married to someone who you can't be in a room with. What you're really buying is transformative ideas from people who help inspire you. Talk to these people when vetting an agency and trust your gut.
6. Is the team pitching us the same team you will be working with?
So, you've established that you have chemistry with the agency – great! Just make sure that the people that are pitching you are actually the people who will be working on your account, or at least leading the account. Agencies will always pitch you with the A team, but that doesn't always mean you'll end up with the A team.
Bottom line: Don't get sold on the Lamborghini with the Ford Escort engine.
7. Do you focus on a specific type of business?
Working with an agency that concentrates on your specific business type may seem like a no-brainer, but it also means you may get the same messaging as everyone else in your field. Meanwhile, an agency outside your vertical can give you a fresh point of view – and won't be as burned out on the subject. Choose an agency that can think strategically on a high level, and can show that they have the ability to take those ideas and put them to use. That's more important than them already being able to work with companies who do what you do.
Bottom Line: People get tired of working in the same vertical and your brand can't afford sleepy ideas.
Consider an agency that has a proven track record of crushing it no matter what category they touch. Their people may not know as much on day one as the specialized agency's team … but they will bring more passion and differentiation to the table.
Just like dating, finding the right professional partner isn't easy. However, asking these seven questions can give you a better idea of whether an agency can give you the tools to build a solid foundation for your brand. Now get out there and find your right match.
Brian Blanchette is president, MicroArts Creative Agency.
This article was first published in January 2017 and has been updated regularly.