Modern Warfare Takes Over Burger King in LA
In the run up to the highly anticipated release of Call of Duty: Modern Warfare, big brands wanted to get in the game.
Last month, a Long Beach, CA, Burger King was turned into a real-world replica of the virtual Burger Town featured in the game.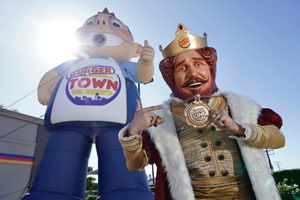 The event included a complete store takeover. Menu boards and graphics were redesigned from scratch, using the game as a reference point. The iconic Burger King exterior signs were replaced with specially fabricated Burger Town signs.
Call of Duty fans got the chance to play the new release, Modern Warfare, against a couple of the best professional gamers in the world. Prizes included game consoles, game codes, T-shirts, and other branded merchandise, as well as a grand prize of a Whopper sandwich a week for 15 years. In all, 40 teams participated in the competition.
The event was livestreamed via streaming platform Twitch. An additional tie-in promotion with Grubhub provided delivery of Burger Town menu items, including chances to unlock bonus game content for a limited time in select cities.
Activision, the Modern Warfare video game publisher and Burger King share a similar consumer demographic. The game launched on October 25. The event was completed—from concept to installation—in just three weeks by 500 Degrees Design Studio.
---
Other articles you might enjoy:
---
Mountain Dew also jumped in to partner with the launch of the game. Players could unlock in-game rewards with the purchase of any participating MTN Dew Amp Game Fuel, MTN Dew or Doritos products, simply by entering unique codes found on the packaging. A September event kicked off the partnership with a livestreamed, competitive event—the MTN Dew Amp Game Fuel Celebrity PRO-AM. The pre-release exhibition paired gaming professionals with celebrities in an adrenaline-inducing experience that highlighted the new 2v2 game mode in Call of Duty: Modern Warfare.
Last month, frozen pizza brand Totino's released products with Call of Duty: Modern Warfare codes to unlock Call of Duty items inside Modern Warfare. Totino's worked with Matthew "Nadeshot" Haag, founder  and CEO of esports organization 100 Thieves, to co-design the in-game content.