Report: Majority of B2B Marketers to Continue Investment in Data Quality in 2020
The overwhelming majority of B2B marketers have plans to invest in data quality in 2020, according to a new annual report from Dun & Bradstreet. Of the 500 B2B decision-makers working in sales or marketing organizations that were surveyed, 75 percent expect to increase their investment and 18 percent strongly expect to increase it. A whopping 90 percent of respondents agree that investing in data quality will improve sales and marketing performance.
When it came to ranking activities that would be positively impacted by data quality investments, the top three initiatives were sales prospecting and closing, generating consumer insights with analytics and campaign execution. Only 7 percent said ABM (account-based management) would be positively impacted; 7 percent said relevant, meaningful personalization; 7 percent said aligning online and offline activities; and only 4 percent said whitespace identification. Only 27 percent of respondents included ABM in their top three choices of initiatives that would see positive impact from data quality.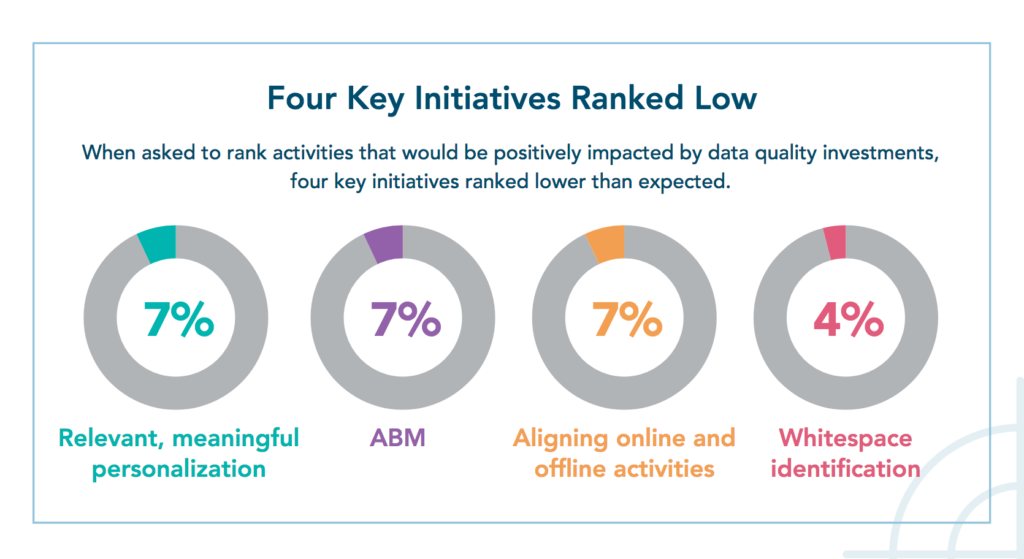 In a separate survey, Dun & Bradstreet recently found that 68 percent of a group of 115 B2B data customers said that accurate customer data is more important during the COVID-19 crisis, with 30 percent saying that data accuracy ranks about the same. A few additional data points from the survey point to how COVID-19 is impacting the B2B sales and marketing landscape:
Effect on Sales Meetings: 58 percent of respondents have seen a decrease in the number of first sales meetings since the beginning of 2020.
Impact of Remote Work: Despite the shift to remote work, 36 percent of sales and marketing teams are more aligned than usual, 50 percent say alignment has remained the same and only 10 percent are less aligned.
New Challenges to Overcome: The top challenges teams face to continued growth during the COVID-19 pandemic are securing face time with customers (34 percent), decreased budgets (30 percent), difficulties coordinating decision-makers (11 percent) and a decrease in leads (10 percent).
---
Other articles you might enjoy: