Godiva CMO: Marketing Campaign Positions Brand as Both Accessible and Premium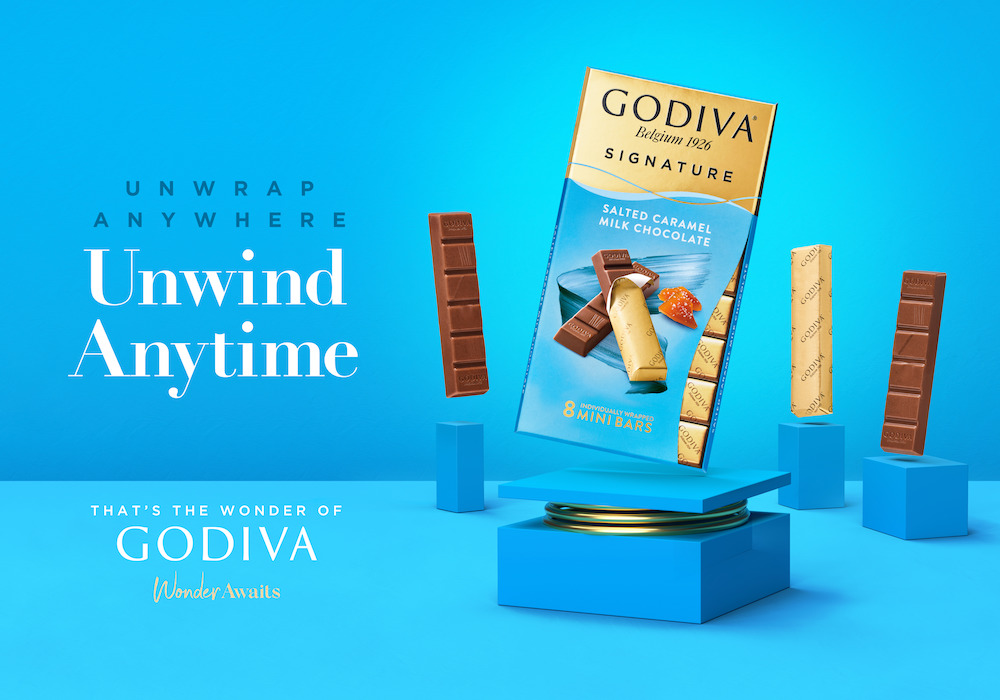 Forget mass versus class. With its new marketing campaign, chocolate company Godiva is touting both. Created by agency TracyLocke, "That's the Wonder of Godiva" aims to remind consumers that Godiva chocolates are available in supermarkets, drugstores and other mass retailers. At the same time, it emphasizes the brand's history of exceptional quality.
Godiva is putting $5 million behind the campaign, which coincides with its 95th anniversary. In the assets, the brand's signature gold hue is offset by bright blues, pinks and magentas that will help it compete for attention on crowded supermarket shelves. Likewise, the voiceover for the 30-second spots references both "magnificent artistry" and "at a chocolate aisle near you."
"We want them putting Godiva on their shopping list," says Godiva CMO John Galloway. "To understand that you can buy us, you need to know we're on the chocolate aisle."
Now that Godiva is readily available at Costco and Target, Kroger and CVS, could the brand lose its premium cachet? Galloway doesn't think so. "Some believe in the notion that scarcity drives premium. That's not a notion I believe in."
Galloway cites approachability, desirability and accessibility as the cornerstones of the campaign's message. "One thing we got dinged on in the past was that we weren't accessible to people," he explains. "Now we're saying, Hey, we're a brand where you might not have thought you could walk into our boutiques, but we want to hang out with you, and you want to hang out with us."
In fact, Godiva announced in January 2021 the closure of its 128 North American boutiques and cafés, whose pristine, precisely curated interiors had nurtured the brand's aura of exclusivity. COVID-19 restrictions played a role in that decision, but even before the pandemic, "we as an organization had already started to pivot to refocus on CPG and ecommerce," Galloway says. "The CPG business is where we continue to double down."
While overall CPG chocolate sales since the beginning of 2021 are up 7 percent year-over-year, with premium CPG chocolate up 17 percent, Godiva has enjoyed a 22 percent lift in CPG sales. What's more, Godiva's ecommerce sales were up 77 percent last year, and year-to-date sales have increased another 22 percent.
The pandemic contributed to some of that increase, of course, and not just because grocery stores, drugstores and ecommerce channels were for many the sole sources for chocolates and other goods. "I think during challenging times, people want to go get a little bright spot in their day, a little bit of premium indulgence, and that's why they turned to Godiva," Galloway says. The campaign plays into that, with spots referencing "celebrations, every day or night" alongside imagery of Godiva candies certain to instill a craving for chocolate in viewers.
"At the real center of this is to open people's eyes to a more wonderful world, one that chocolate is a part of," Galloway says. The campaign will deliver that message via ads on BuzzFeed, Hulu, YouTube and Amazon, among other media properties and publishers, supported by social media. There will also be "a nice holiday promotion," Galloway says. And in New York City in June, the team will be dish out samples from a branded pink truck to celebrate its 95th anniversary and "bring a little bit of happiness as New York comes back to life."